Complete AI Pack for WordPress
AI Power is the most powerful WordPress ChatGPT plugin, leveraging GPT-4 by OpenAI, to generate high-quality content.
GPT AI Power is a comprehensive AI plugin for WordPress that uses advanced technologies like GPT-3.5, GPT-4, and DaVinci to generate customizable content, images, forms, and more. Its features include an AI-powered Content Writer, Image Generator, ChatGPT for chatbot creation, WooCommerce integration, Embeddings, and more. With GPT AI Power, you can optimize your content for search engines, experiment with GPT models using the Playground, and take advantage of its support for 40 languages.
GPT AI Power is a ChatGPT plugin for WordPress. It uses advanced AI models like GPT-3.5 and GPT-4. It generates customizable content, images, and forms. Other features include Chat bots, Pexels, WooCommerce integration, Speech-to-Post, and Model Comparison Tool.
Your All-in-One AI Solution for WordPress
Experience the power of advanced natural language processing technology with GPT AI Power. From content generation to custom chat bots, our plugin offers a range of features to enhance your WordPress site.
Content Generation from RSS
Content Generation from Google Sheets
Fully Customizable AI Forms
WooCommerce Product Writer

Easy to Setup​
Setting up GPT AI Power is simple and easy. All you need to do is enter your OpenAI API key on the plugin settings page and you're ready to use all of the features.
Once your API key is entered, you can start generating content, using the title suggestion tool, converting audio to text, utilizing the semantic search feature, and comparing different GPT models. No complicated installation process or technical knowledge is required.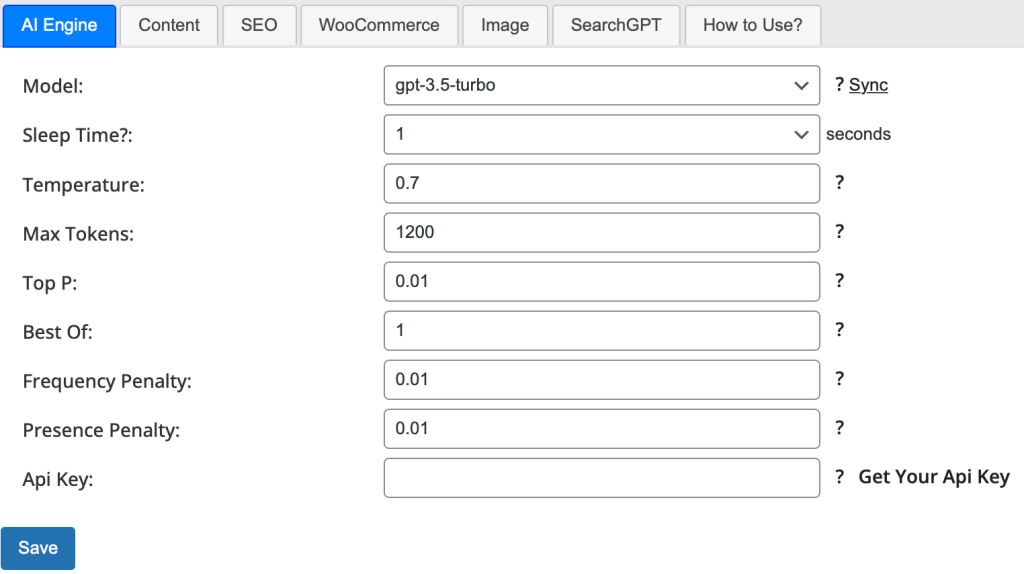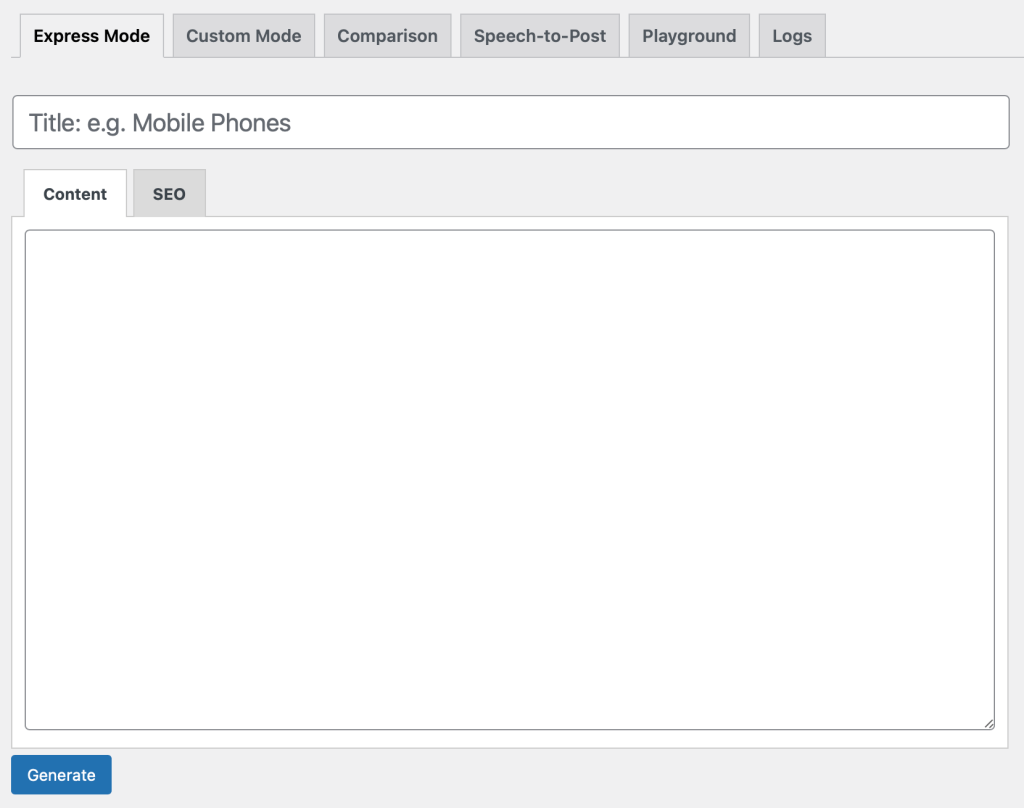 Clean, & Simple User Interface
GPT AI Power offers you a clean and simple user interface that allows you to access all the functions of the WordPress plugin from a single control panel.
The minimalistic design ensures that users can quickly locate the options they need without being overwhelmed by unnecessary clutter. The interface also features helpful tooltips and clear labels to guide users through the plugin's functionalities.

Get Excellent Assistance with Our AI Chatbot, Lisa.
Our ChatGPT-powered chatbot, Lisa, offers exceptional support to our users. Whether you have questions or issues, Lisa is always ready to assist you with her smart and friendly nature.
Lisa can answer your queries, provide tips and suggestions, and guide you through the plugin features. Lisa is easily accessible from the chat widget on our website, making it convenient for you to get the support you need.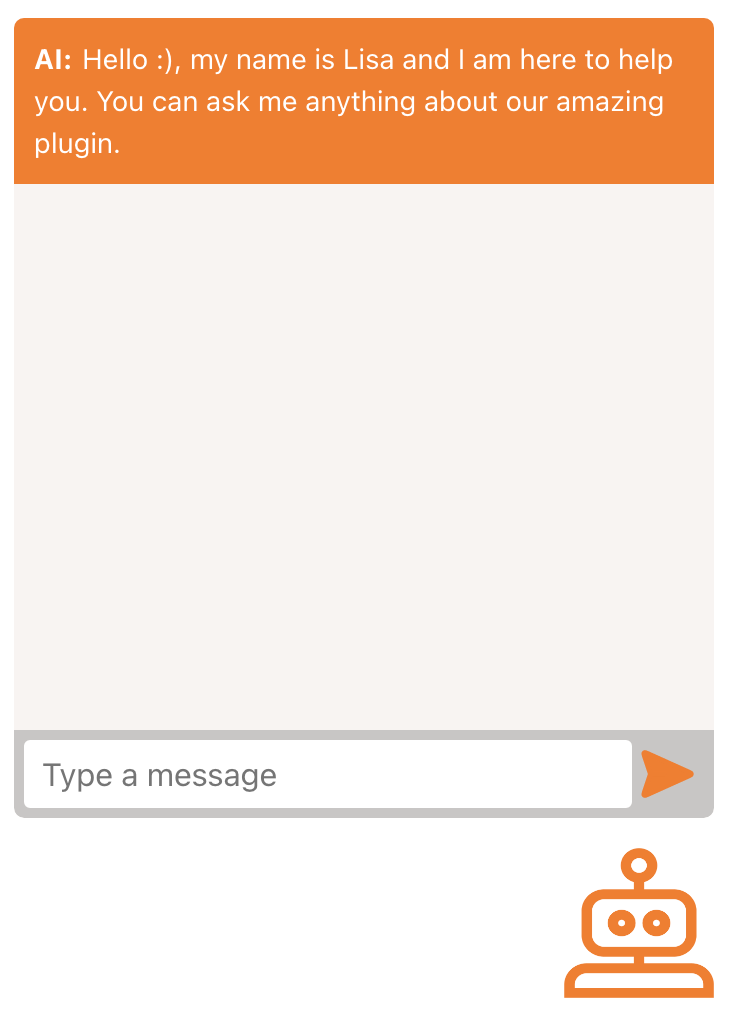 GPT AI Power makes it easy to generate high-quality, engaging content.
4.7 Overall Satisfaction Rating!
I recently tried out This plugin and was pleasantly surprised by its performance. The plugin was easy to install and set up, and it did a great job of generating high-quality content that was relevant to the topic I specified. The generated content was well-written and free of errors, and it was a useful tool for quickly coming up with ideas for blog posts draft It was able to generate content that matched my style and fit the overall content of my website.
I've been seeking to find a WordPress AI content generation plugin for my SEO clients, as well as a massive soft market that I envision can greatly benefit from this, and from every plugin I've tested this is by far the best one yet.
This is a very smart, easy-to-use and cutting-edge plugin that will be a game changer for the WordPress community. The developer really understands what's happening in the world and why chatGPT matters. This moves the WordPress front forward by a chunk. Really looking forward to more upgrades and improvement. See for yourself what this can do. I especially love the recent adoption of the chatbot engine.
Great service. I cannot thank Senol (the creator) enough for his patience and guidance. In other words, the plugin comes with very good customer service.
📝 Content Writer
Generate High Quality Content with One Click
The Content Writer module is an innovative and powerful feature of the GPT AI Power WordPress plugin, designed to generate high-quality content using GPT models. With its user-friendly interface and extensive customization options, this module is perfect for content creators who want to streamline their writing process while maintaining control over the final output.
The Content Writer module consists of two distinct sections: Custom and Express Mode.
Custom mode allows you to create content with more control over the prompts, letting you tailor the AI-generated output to your specific needs. This mode is perfect for users who want to fine-tune their content while still benefiting from the time-saving advantages of AI.
Express mode is designed to simplify content generation by providing a quick and easy way to create content with just a single click. By default, Express mode generates a 500-word article with five headings, but these settings can be adjusted to suit your preferences.
Key Features of Express mode:
Supports 41 languages
Offers 44 writing styles and 24 tones
Customizable number of headings (1-15)
Adjustable heading tags (H1-H6)
Option to modify headings before generating content
Ability to add introductions, conclusions, and taglines
Table of Contents generation
Anchor text and Call-to-Action support
Integration with OpenAI's DALL-E and Pexels for image insertion
Integration with Yoast SEO, Rank Math and All In One SEO
🚆 Auto Content Writer
🔍 SEO Optimizer
🚀 Image Generator
🤖 Custom ChatGPT Bots
🪄 AI Forms
✨ PromptBase
💻 Embeddings
✍️ AI Training
🛍️ WooCommerce Product Writer
💡 Title Suggester
🔊 Whisper
🌟 Semantic Search
📊 Comparison Tool